DigiNotar Root CA
So schnell kann es gehen.
29.08.11 02:59 Mozilla meldet gefundenes Wildcard von google.com
Fraudulent *.google.com Certificate
30.08.2011 18:55 Heise News meldet:
Falsches Google-Zertifikat ist Folge eines Hacks
01.09.2011 18:05 Neues ca-certificates Pakete kommen auf unserem Mirror an.
* New upstream release v3.6.21 (FIREFOX_3_6_21_BUILD1)
- Distrust and disable DigiNotar Root CA due to fraudulent certificate
issuance (LP: #837557)
Imfolge dessen gab der Kurs der VASCO Data Security International um gut 33% nach.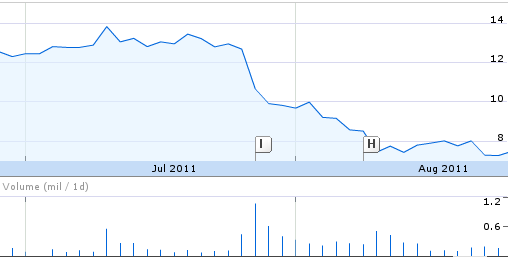 08.09.2011
* New upstream release v3.6.22 (FIREFOX_3_6_22_BUILD2)
- Distrust and disable all DigiNotar certs including the Staat der
Nederlanden Certificates (LP: #838322)